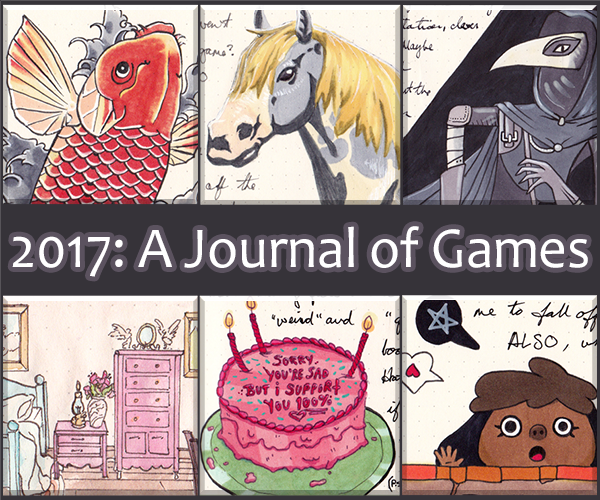 2017: A Journal of Games
A downloadable art journal
In March of 2017, I decided to keep an illustrated journal of every game I played.
I had some rules to keep the project manageable. In a nutshell, any game I put significant time into (or that made a strong impression on me) qualified. From tiny aesthetic projects to huge AAA releases, I drew and wrote pages about the games I played both for work and for fun. And by the end of the year, I had 58 entries to show for it.

I shared each page on Twitter as I completed them, and linked to the [more professional and less casual] writing I was doing about some of the titles as well. (You can find all of that collected in a Twitter Moment here.) But I also wanted to compile a PDF version, not just for the sake of having clean scans of everything but also so I could caption the pages for those who can't read my squiggly cursive... Hence why this is pay-what-you-want, because I'm sure as heck not going to charge just for accessibility.
So here it is. Not exactly a zine, but something like it. 58 messy pages drawn and written in the moment, with no drafts and no do-overs. Please note that I'm not a professional artist (and I'm just barely a professional writer) so the point of this project was practice and entertainment as much as anything else.
As a bonus, I've also included some reflections and advice in the back for anyone looking to do a journal of their own in the future. (Feel free to @ me on Twitter and let me know how it goes if you do!)

Enjoy!
Please don't redistribute this PDF or use the art or writing within for any other works, personal or commercial. If you want to share it with others, just link this page (or even the Twitter Moment).
Download
Click download now to get access to the following files:
Comments
Log in with itch.io to leave a comment.
WOW!!!
I'm envy with your ability. I want to drawn and be more organized like you Janine =)